For decades, it's been my dream to join the Traveler's Century Club. Why? Their club motto aligns with my personal mission statement–"World travel: The passport to peace through understanding."
Once you've stepped foot in 100 sovereign states, territories, exclaves or island groups (I'm at 71), you may apply to the social networking group for intrepid travelers.
Due to Covid-19, I had already cancelled two trips to never-been-there-before countries. The prospect of losing an entire travel year to the pandemic was weighing heavily on my mind. I'm no spring chicken; I don't have forever to accomplish my goal!
My friend Robyn and I first envisioned this trip to Africa in late 2019. Her brother, Stuart, had accepted a position in Kigali, Rwanda. Robyn and I had a history of visiting Stuart in exotic locales, having spent a week with him when he lived in Bangkok, Thailand, four years ago. Eager to take advantage of the inside information Stuart was so adept at providing, Robyn and I blocked off dates during the 2020 Thanksgiving holiday.
Then, the borders closed in March 2020, and we stopped talking about the trip.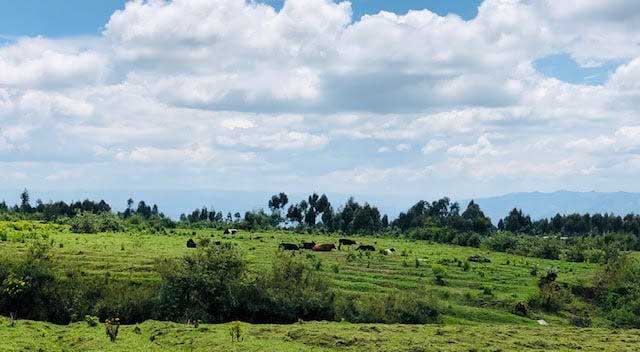 In August, when Robyn and I were suffering from severe withdrawal symptoms due to no travel, Stuart messaged and said Rwanda had reopened its borders to Americans with a negative Covid-19 PCR test result 120 hours before departure, a negative test result upon arrival, and a 24-hour quarantine. Plus, he wasn't sure how much longer his assignment would last. Robyn and I started discussing the journey again.
In October, official studies decreed that flying posed a low risk of catching the coronavirus. Stuart noted that Rwanda's death rate was much lower than in the U.S., masks were mandated, and a 10pm curfew was in effect. We would probably be safer there than here. He suggested we add on either Kenya, Tanzania, and/or Zanzibar, because they were also allowing Americans in. 
Robyn and I are beach fiends and easily fixated on dipping our toes in the crystal-clear water and brilliant white sand found on Zanzibar's award-winning shores. We would stay there four nights with Stuart at the end of our trip, loafing at a fancy hotel a stone's throw from the Indian Ocean. 
Dar Es Salaam (DAR), Tanzania, was meant to be a two-night citybreak before riding the ferry to Zanzibar. We would hop a return ferry and fly from Tanzania back to the U.S. A Covid test was not required. The rest of our trip would be spent in Rwanda.
We purchased tickets on Qatar Airways, confirmed a designated quarantine hotel, and uploaded our negative test results on the compulsory Rwandan government form. Equipped with face masks, face shields, and Clorox wipes, I was ready to take a risk for a once-in-a-lifetime travel opportunity (and the reward of adding three new countries to my list)!  
We landed at Kigali International Airport and were collected by our hotel driver. I gawked out the window as we wound our way through the city. My head swiveled and I took in more breathtaking views. Huge trees in countless shades of green, rolling hills, pink roofed houses perched in the distance.
The driver explained that Rwanda's nickname is "Le pays des mille collines," French for "Land of a thousand hills."
Kigali is the capital, located in the center of the country on the Ruganwa River. Locals navigated the hills carrying baskets of fruit on their heads. Vendors pushed carts down pristine streets. No potholes in the roads. Everyone wearing masks.
We were dropped off at the hotel's open-air lobby, tested for Covid and escorted to our room. Four hours later, we received our negative test results. Another scary hurdle conquered! Stuart picked us up the next morning. We would stay at his place for three nights and celebrate Thanksgiving together.
Our first tourist stop was the Kigali Genocide Memorial. This Centre commemorates the genocide of 1994, where members of the Hutu ethnic majority murdered 600,000 of the Tutsi minority. Inside, an audio tour describes the heartbreaking exhibits. Outside, a garden of carefully tended trees, flowers and an eternal flame mark the graves of over 250,000 souls.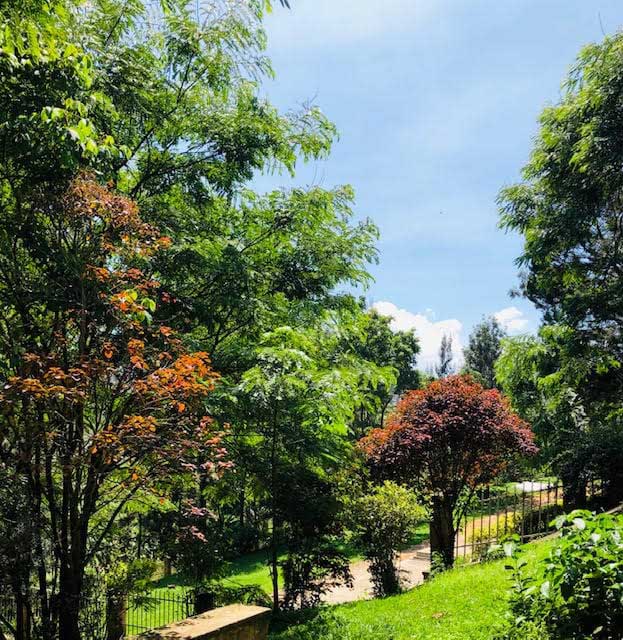 Perhaps you saw the movie Hotel Rwanda, starring Oscar nominee Don Cheadle, which documents the Rwandan civil war. We had soup and sandwiches at the real-life "Hotel Rwanda," Hotel des Milles Collines, which became a sanctuary for 1000 Tutsis whose lives were saved by the guile of the manager, Paul Rusesabagina. Chatting with hotel and restaurant staff, we learned the Rwandan people have put this horror behind them and are a unified front in moving their country forward. Rwanda is now considered one of the safest and cleanest countries in Africa.
Another of Rwanda's claims to fame is animal wildlife viewing. Before Covid, tourists flocked to the country to go gorilla trekking, and you might have had a year's wait for a permit. Robyn and I had decided we didn't want to hike hours in difficult terrain or pay $1500 each. Instead, after consultation with Stuart, we made plans to see the golden monkeys at Volcanoes National Park, a three-hour drive north of Kigali.
I scored last minute reservations for two nights at a luxury lodge near the park. We had to take another Covid test, because negative results within 72 hours are needed to enter Rwanda's national parks and to leave the country. (Tip: Go to the Rwanda Biomedical Centre's Petit Stade location on KG 11 Ave. Park employees can verify your test results through this portal.)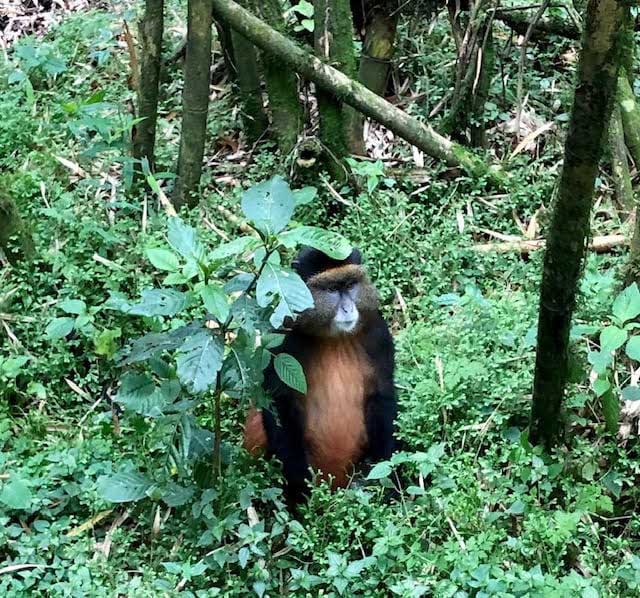 We purchased our permits ($100 per person) at the Rwanda Development Board office one day in advance. Lodge personnel verified our updated Covid-free test results the next morning, and our assigned butler drove us to the entrance of the park.
With our guide, we trudged 45 minutes through muddy farmland and prickly brush. Armed guards flanked our front and rear. Photo ops abounded with a background of tree-flecked knolls and mooing cows. We put on surgical masks and had our shoes disinfected before entering the bamboo forest.
Dozens of monkeys with reddish-gold streaks on their backs scampered inside the evergreen grove. You have one hour to immerse yourself in the experience. After taking plenty of photos, I closed my eyes, and breathed deeply in the palpably fresh air. I listened to the monkeys chattering and rustling around me, and thanked the Universe for this moment.
We missed our flight to DAR on Sunday because of an erroneous email from RwandAir, and rescheduled for Monday with Stuart. A warm, breezy, full moon night in a City Centre Holiday Inn boasting a rooftop restaurant, infinity pool, and a hella jacuzzi made up for no time to tour.  At the ferry terminal in DAR, be wary of touts fighting to carry your luggage. Go inside to the main box office to buy your ticket. I highly recommend upgrading to VIP for the two-hour ferry ride.
We docked at our "Shangri-la" greeted by pouring rain! Zanzibar, also known as the Spice Island, is an autonomous territory of Tanzania. The country is a mix of African, Persian, Arab, Indian, Chinese, Portuguese and British cultures. More than 90 percent of the population is Muslim. Here, we noticed the majority of women wore hijabs and traditional Islamic dresses.
Stuart wanted to check out the spice bazaar to restock his kitchen, and we all wished to visit the former slave market and memorial. For over 100 years, Zanzibar served as the biggest slave trader hub in East Africa. Our hotel suggested a two-hour walking tour through the mazelike passageways of the main city, Stone Town, a UNESCO World Heritage Site. Luckily, the skies soon cleared. After that, beach time!
When our toes were firmly planted in the warm sand, Robyn and I gave ourselves a huge high five! We had achieved a joint mission to reach this fabled island halfway around the world!
Taking full advantage of the tropical setting, we rode in a skiff to a secluded islet, accompanied by a school of dolphins. We snorkeled. Our captain dished up coconut, mango and pineapple so plump the juice dribbled down our chins.  
We savored freshly caught red snapper in restaurants beside the sea. Amazing sunsets topped off lazy, flawless days. Waves lapping against the shore lulled us to sleep each night.
Much too quickly, our vacation was coming to an end. 
I learned it is possible to travel safely in spite of a pandemic. I'm glad I took the chance. And even if I don't get to 100 countries before my stint on Earth is up, it makes me happy to know a group of like-minded individuals is committed to the superlative goal of promoting world peace through international travel.