Did He Know? Did We Know?
(For farmer Gajendra Singh who hanged himself in 2015, and for the six farmers of Mandsaur, India, killed by the police in June 2017) 
did he know
when morning
nudged his
skin awake,
he would
that fatal day,
be hanging
from a tree,
dead?
601 dead,
within ninety days.
601 farmers
tilled the soil
to reap death.
to reap a harvest
of suicide,
the bitter fruit
of despair. 
the sky
betrayed them,
as did the
leaders
of a nation,
leaders of
pomposity,
leaders of
greed.
stones
are silent witness.
people are
stones.
did we know
we would be
so savage?
so shamelessly
savage?
so indifferent
to humanity
in the pursuit
of our own
destinies…
did he know?
did we know?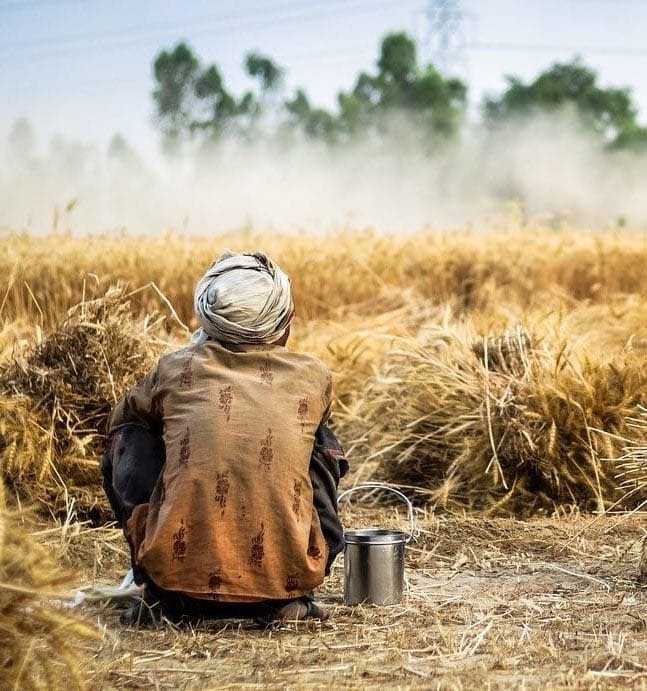 Having written this poem in 2017, I realize that nothing much has changed for those who place food on our tables. That was when a farmer had taken his life in despair. He is just one of the tragic thousands who have taken their lives here in India, besides the thousands who go unreported in the media. In 2019 alone, 10,281 in the farmer sector took their lives (as reported by The Economic Times).
While multiple reasons for suicide could be draught, climate change, and mental health, a significant reason for suicides in the farm sector is due to inequitable government policies and debt burdens, inflated prices of inputs required for agriculture, and the increase in cost of cultivation. Many succumb due to unpaid loans.
We still do not have the complete data for those who departed in 2020, but since August of that surreal Covid year, our farmers, mostly from Haryana and Punjab (North India), have defied all odds to combat the government that has not only continued to ignore their on-the-ground issues, but has added to them comprehensibly.
This happened with the three bills that were passed by the government in 2020. Opposition parties alleged that the bills were passed "unconstitutionally" and in complete disregard of parliamentary norms, that the bills are designed to favor and enrich the corporates while being enormously detrimental to the farmer.
Since the passing of the bills, tens of thousands of farmers and their families, including aged men, women, and little children from North India, have walked on the road to the capital city of New Delhi through winter months, often running out of food and water, to resist and challenge the government's unprecedented laws on agriculture. Thousands of tractors, too, are rolling down the roads with them in this epic ocean of protest. Over fifty farmers have died so far during the ordeal.  The government has built hostile concrete and metal barricades, assaulted farmers with fierce cannon water and police beatings to deter them from entering the capital.
"Over fifty farmers have died so far during the ordeal."
The three injurious bills or "benefits," as per the government states are: 1) that the farmers will have the freedom to sell their produce outside the APMC (agricultural produce market committee or the mandi system i.e. the local agricultural market) and there will be no tax on such trade which will offer a higher price to the farmers. 2) Farmers can sell their produce anywhere in the country and also sell their produce to merchants wherever they get a higher price. 3) No license for traders will be required to purchase produce of farmers outside the APMC. This, according to the government will facilitate wider trade in agricultural products and will benefit the farmers.
So why are the farmers resisting these seemingly pro-farmer bills? These bills, even as they appear farmer-friendly, are veiled in an insidious camouflage that will squash the farmers' rights whereby heavy penalties for violation of these rules will be implemented, besides other serious damages to their independence.
The farmers have read the flipside of the coin and are protesting that these bills will, in fact, force them to sell their crop to corporate companies at a lower price (due to the abolition of the mandi system), that it will benefit the corporate and not the farmers. Also, as no licenses will be required, farmers will be exposed to the risk of fraud and corruption. Besides, farmers may lose their land and become "slaves" to the corporates.
MSP (minimum support price) is fixed by the agriculture department of the government for fixed number of crops, a reform process that is supposed to provides farmers with greater support. However, strangely, there is no concrete law mentioned in the files of the government. Besides, only 6% of farmers in India actually succeed in selling their crops at MSP, while a majority of farmers do not benefit from it. Therefore, the farmers are unable to trust the government and its non-committal stand.
Clearly, crony-capitalism is prevailing here, between the government and the corporates, a nexus that works twenty-four hours to ensure a monopoly in the market, so the rich get richer and power prevails. 
Meanwhile, the government is employing its macabre strength to scatter the protestors, to silence the protest. For instance, close to Delhi borders, cement and barbed wire barricades are built to stall their progress along with beds of nails on the roads. When the protestors threw away the barricades, police forces struck them with water cannons and tear gas shells. To prevent the farmers reaching Delhi, sand-filled trucks and bulldozers were placed along with trenches dug on several routes to Delhi. Besides, demonically, internet was cut around these areas to deny the protestors communicating with each other.
The increasingly fascist tendencies of this government, their intolerance of dissenting voices, besides their disregard of, and abuse of, the Indian Constitution, has led to arrests of journalists (at least eight leading senior journalists since the protest), rationalists and academics including activists. A young 23-year old trade union activist, Nodeep Kaur was one of the participants in the farmers' agitation. 
"The increasingly fascist tendencies of this government…"
She was targeted by the police, pulled out of her tent, beaten, bruised in her genitals during custody, and imprisoned. Her sister, Rajvir Kaur, stands testimony to the assault as she met her sister in prison and witnessed the remains of the attack on Nodeep's body. Rajvir Kaur is still seeking justice for her sister.

 Besides a young actor, Deep Sidhu, over 120 participating protestors have been arrested along with Gurmukh Singh, an 80-year-old farmer who was refusing to leave the protest site. In fact, many of the arrested farmers are senior citizens. And as of January 4, 2021, 60 farmers have died during the agitation, due to extreme weather conditions, heart attacks from the cold, accidents, or suicide.  
While in India, there is self-editing in much of the media on the issue, substantial condemnation comes from international regions and from human rights groups overseas. Recently, young Swedish environmentalist Greta Thunberg, who has been nominated for the Nobel Peace Prize three years running, and Barbados-American celebrity pop star, Rihanna, were attacked by Indian right-wingers for their tweets supporting Indian farmers. There have been reports of an FIR being filed against Greta to which she tweeted:

"
I still #StandWithFarmers
and support their peaceful protest. No amount of hate, threats, or violations of human rights will ever change that."
Rihanna tweeted "Why aren't we talking about this #FarmersProtest?" to which the ministry of external affairs released a statement criticizing "celebrities and others" for their "neither accurate nor responsible" comments. In fact, the ministry's statement must be subject to scrutiny, as clearly it has undermined the farmers to ensure a monopoly in the agricultural sector market to benefit the alignment of industrialists and the government. Also, some internationally Indian cricketers and Bollywood celebrities have aligned themselves with the government in favor of the draconian policies ~ they who have much to gain from being loyalists.
Amnesty International has condemned the crushing of farmers' protests and the demonizing of dissenters. Rajat Khosla, Senior Director of Research, Advocacy and Policy at Amnesty International has said, "We have seen an alarming escalation in the Indian authorities' targeting of anyone who dares to criticize or protest the government's repressive laws and policies… The crushing of dissent leaves little space for people to peacefully exercise their human rights including the right to freedom of expression, association, and peaceful assembly in the country."
Mekhala Krishnamurthy, academic and social anthropologist, said, "Farmer representatives should be part of a formal consultative process for law-making, where other stake-holders are consulted; where the state governments and those implementing marketing laws and regulatory systems, including corporates are also consulted as part of the process. That's how you come to a central law. Farmers are using their democratic rights to protest and we must hope that they are given due dignity and respect in our democracy. I think as a democratic country, it is our responsibility to work out a far better reform process to support our agriculture."
Thus, think again… why hundreds of thousands of farmers and their families from modest conditions subject themselves to such a long, arduous protest that has left several dead or imprisoned? They have nothing to gain other than their rights. It is unfortunate that those who feed us are so mercilessly being denied what they need most to survive with dignity: a repeal of the three draconian laws.