So, I've been traveling in a pandemic for eight months because this was the year to write full-time and finally leave America with Trump behind. Getting ready to travel and write some more now — the first sign was when I ran into the Acropolis in Greece. What an adventure — I've learned how to swear in Persian and words of seduction from the beautiful Muslim who says Iranians aren't real Muslims, anyway.
 I'm in my sixties, and eight years ago suffered critical brain surgery, my fifteen minutes of fame at Brackenridge Hospital in Austin, Texas, because my ten-year old tumor was the largest ever — a Texas-sized grapefruit. Became a celebrity for two weeks in ICU. Now I'm a walking, talking, miracle.
Let me tell you, there is nothing like a re-birth after almost-dying. When you get a chance to start over. Waking up to a day filled with sunshine, rainbows, and a good veggie sandwich. Now I truly understand that change is your friend. And that yesterday's darkness has to be the past if you want to not just live, but flourish.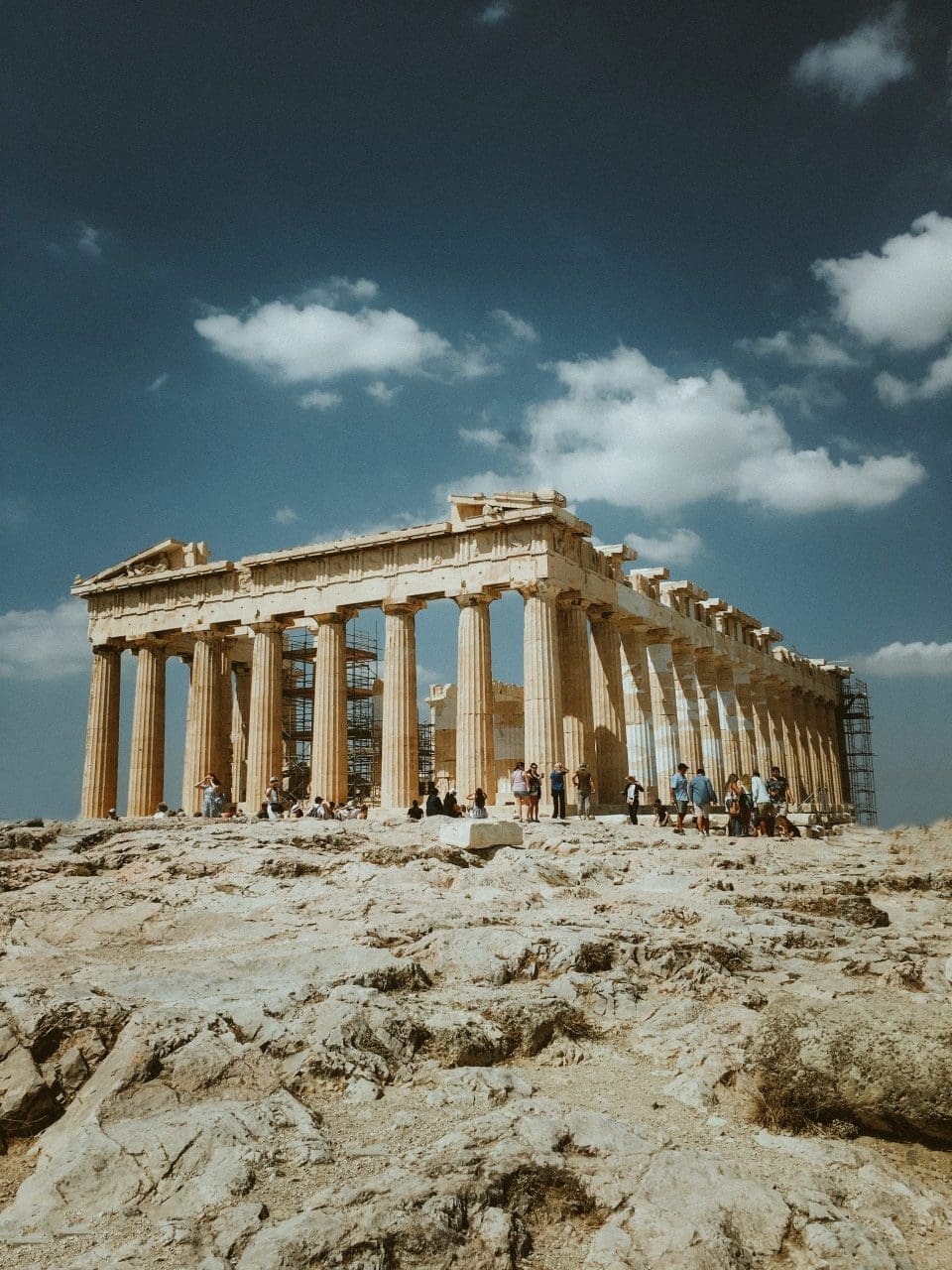 Long story, but seven years now since that brain surgery, I arrived in Athens the night of their lockdown, riding an empty subway, in a pouring rain that was March-cold with only a cotton poncho to keep me warm. I'm from South Texas, and we have few winter days here.
I was told by Immigration at the airport to self-isolate for two months. The grocery stores and fish markets remained open, so I didn't starve. My cooking skills became more important than trying to keep warm, and since the washing machine didn't work, remembered how to handwash my blue jeans while walking around in leggings.
"I was totally alone, only my Facebook friends and NPR."
I was totally alone, only my Facebook friends and NPR. I missed my gym, the cinema, the theatre. I missed my cat—now adopted out—more than the lover who had to stay in the past. But I had my online yoga, meditations, recipes, and music to keep me focused. A book to complete, online workshops to take. Life went on.
After an extended stay in Greece because of the Pandemic, I went on to Portugal to visit more museums–masked–and walk the hills and cobblestones of Coimbra every day. I lost the ten pounds I couldn't lose despite so much exercising in the U.S. Got addicted to coffee, fresh bread, and the streets named after poets. My sneakers wore out — my two sets of panties turned transparent from so much washing. The turquoise and lemon yellows of Portugal became my new favorite colors.
After international flights, trains, buses, shuttles, and walking on the pedestrian walkway around the Acropolis for weeks, I hadn't gotten sick. I was certainly vulnerable, so why not?
Now back in the States, my older friends were concerned, mortified about Covid. They couldn't believe my life. I told them I almost died once, and this is what I'd learned:
1. It's not enough to wash your hands.
We have to wash-out what we were before. Wash your house, your car, your purse. Your keys. Bust out the Pine Sol, the vinegar, lavender concoctions. It's gotta be a disinfectant, not just smell good.
My visual artist friend, Terry Ybanez, told me once that she cleans her house all dressed up and puts on her good lipstick! Make your house sparkle cause you're washing out yesterday and ready for what's coming! In Texas we say Dale Shine! Put on some grooves, dance with the broom, shake it and break it a little.
If you have teenagers, I am sorry to inform you they are not playing by Covid rules. I've seen too many out there. Banish them from the kitchen or common areas…Get them a microwave. Try to keep them separate from your spaces, and wipe down whatever they touch frequently including the car, inside more than outside. The bookcase, the remote control, appliances, doorknobs, and especially the family bathroom.
Our grandmothers, my abuelita, was the kind of religious who had faith in cleanliness as a sign of purity, maybe even virginity. Call on her during this Pandemic. 
Upgrade your hygienic standards—this is vital in disinfecting your house no matter how often you wash your hands–especially if you have a family… Now is the time to wash with hot water, be generous with the detergents. Clean everything like you're in the Army! The Marines! And you're the General, the soldier, and the Sergeant. But make it fun! You're alive. You're a strong, independent, woman! We just elected a woman as Vice-President! A little Pandemic is nothing besides you. Yes, you are that beautiful in that mirror. Look at yourself. Say it again! Sing it! 
2. OK, so you're in prison.
But no use protecting yourself if you can't get some exercise. Lack of movement accelerates aging. In Greece, I took online classes.
Now here's my heresy: Walk, yes, walk with your mask— outside—alone—far away from everyone for at least 20 minutes a day. This is your time to think, to commune with the trees. Stay far away from anyone without a mask. Don't linger anywhere. Don't touch anything, wash your hands thoroughly the moment you step into your nice, clean, house, and this is why you disinfect those doorknobs. OK, you don't like walking — get a treadmill, a bicycle, and use it! It's not for hanging clothes. (Which may be picking up some Covid, who knows…?)
Exercise makes me happy, changes my mood, gives me energy. Good for your brain, too. As I get older, I want to do it less, and that's where the following is the trick to get you moving again. …
3. Forget the "Covid +15 pounds."
Go for the "Covid Minus 10 Vegetable Diet."
Now is the time to break out the veggie cookbooks. There are some absolutely delicious heart-loving recipes out there for spinach, cauliflower, carrots, kale, brussels sprouts, broccoli, peas, apples, grapefruits, berries, and anything dark and crunchy. Explore the world of Indian and Thai cooking, especially if you like spices, and I do. Make your own yogurt. Think corn tortillas, fresh beans, rice, and whole-grain is always best, but don't force yourself. Explore the world of new foods, experiment, improvise. Forget the cakes and pastries except for the New Year. Nuts, honey or molasses for dessert. I used to buy all sorts of spices in tiny quantities at the fancy grocery store in town—try that. Now is the time to let your artist loose. The best artists I know are also fabulous cooks. Get wild in the kitchen! Listen to your news there.
Go for caldos! Add lots of greens and carrots to the soups. Our bodies are amazing. They will adjust, you'll see. The trick is to find a healthy way to eat the foods you love, too. And then the magic happens and you are eating the way you always dreamed. Thanks, Covid. Tears are good for the sauce.
Besides, green vegetables make your skin glow, and they are a boon to digestion. Nachos and Christmas stuff? Once a pandemic. YOU are my Christmas. Your children and the teenagers will be amazed, what an example you're setting for them.
4. Turn off the television.
Limit your news cycles.
Read all those books waiting for you! With a library card, you can download lots of books for a free rental with the Libby App. This is how I can read all over the world in English. Or Spanish.
5. Pray. Every day.  
Give thanks that we have so much.
Don't ask for anything but how to love, because that's why we're here, anyway…
Tell the Divine to keep you strong and fearless, that you realize this Pandemic is a kind of death that is bringing something new — and you want to be ready for the rebirth of this planet, despite the sadness. The adventure of life. A little pandemic is nothing for mujeres fuertes. There are goddesses everywhere taking care of you. Watching over you, like they did for me in Greece.
This forces your mind to calm down, and once in a while, you travel to the places where the goddesses approach you for a few seconds and smile at you. A place where we find some clarity about what we're here to do in these days of possibility. This adventure called life.
A life isn't that short, I recently read. There is enough time to do what you're supposed to do if you use it.