One Question–My Experiment
Recently, after a couple of Zoom conversations with my friend, Kathleen Rodgers, I thought it might be fun to record conversations with author friends about their thoughts on writing and their recent work or novels.
(SEE OUR "CHAT" BELOW!)
After weeks of thinking about it and trying to find a good time, I finally jumped in and interviewed Kathy about her latest novel, The Flying Cutterbucks.
The conversation was intended to be just that –- a conversation, and not an overly formatted interview. This made it both exciting and scary.  Though I did have a couple of questions in mind to ask, Kathy didn't have a heads up about what I would be asking.  I think you'll see in the video, it really was spontaneous–especially by the fact I didn't even have a title for the "episode" yet. But we had fun, and hopefully, viewers will learn a little bit about Kathy, her novel and her writing process.
Though we had intended to limit this episode to 15 minutes, thinking many people may not have the time to watch anything longer, as often happens when we talk, one topic begat another, and we talked on and on.
Next time, perhaps I'll set a timer, a proverbial hook to pull the performers off the stage.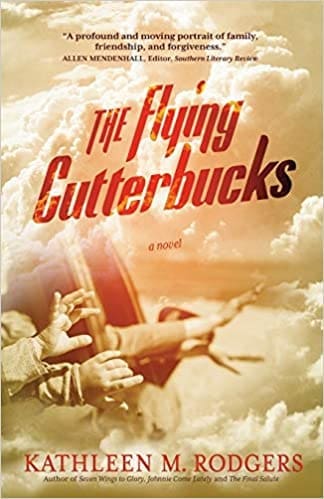 This little challenge of "one topic begetting another" also led me to ask more than "One Question," which is why I edited my title page to add, "or two, or three, or four…"
Obviously, I have some work to do as an interviewer.
So, I hope you'll forgive my lack of polish and precision, and instead, will enjoy being a "fly on the wall" of my conversation with my very talented author friend!
Feel free to leave your comments about the video, including any critique. I'm always open to new ideas!
Thank you for watching!
For more information on Kathleen M. Rodgers and her books,