It's that time of year again, light snow fall dusting the fields and turning a muddy lane pure white, wreaths on the doors, the pale twinkling glow of Christmas trees in the living room windows. Kids are going to school with a bottle of glue, some construction paper, some stardust to sprinkle on their angels. I remember it all well, with some pangs of regret mixed with my usual anticipation as I waited for the first light on Christmas day.
I would rush down the steps ahead of my two brothers and scan the loot under the tree and find that the microscope I had put my hopes on was not among the presents. The box was too big for most of the stuff my mother had laid out. My usual haul was a pack of winter socks, some shirts, a new pencil case, maybe a baseball cap with the Phillies logo sewn over the visor.
Looking back after many years, I pat my vanished childhood self on the back and praise him for not moping around the house all Christmas afternoon. My father would pretend to know what each box contained and would smile abstractly as the wrapping was torn open. He hadn't shopped at all; but my mother always made it seem he was the generous source of each kindness. It was a game we all played, and even enjoyed. "Gee, thanks, Dad," I would say, concealing what he had 'given' me. "I really needed this." That made him crane his neck a little, until I revealed the woolen gloves to him. Then he would nod sagely and sit back.
I could smell cinnamon rolls baking in the oven and the slightly acrid smell of coffee percolating in the dented coffee pot on the stove. My father would light a small fire in the hearth and we would gather there to wolf down our glazed and sticky rolls, and slurp coffee, and watch as my mother delicately pulled loose the ribbon around her gift, and ease the tape from the box with her thumb nail. She would lift the lid and part the tissue paper and pull out a colorful scarf from my brother, or a thin, silk blouse from my father. I would give her a supply of Tootsie Rolls and a Pez dispenser as my contribution to the year's climactic moment of mother love.
Then we would all sit among the piles of torn paper and scattered box lids and wonder what to do next. Snow was falling, kids were outside with new sleds and plastic saucers, raising shrill cries as they slid around in the street. I ventured out only to get pelted with a snowball from the neighbor's kid, a lanky, overly tall pimple-faced rival for the girl I liked down the street. He always waited for me to brave the outside before landing an expertly delivered missile. He became a policeman when he grew up; I was glad for him.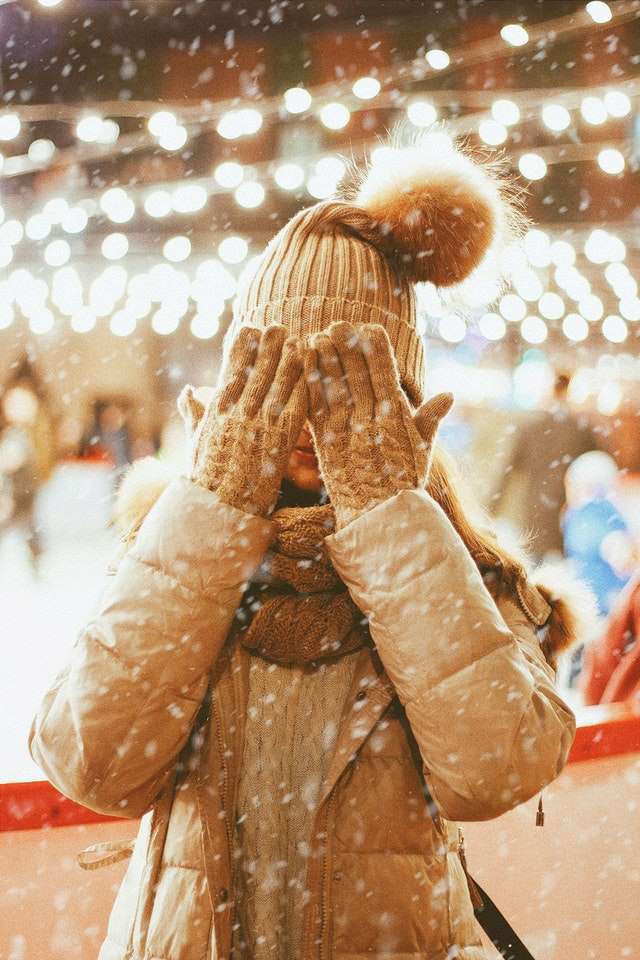 Christmas was a sandbar in the midst of a desolate sea of winter-time school. We had a half-week of pure lassitude and could indulge ourselves in sentimental feelings and fleeting visions of what it would be like to get a new bike, or a model plane with a tiny, gas-powered engine to propel it. Only rich kids got such treasures.
My old Schwinn bike was in the basement with a flat tire, and a seat that could no longer be tightened down. I would haul it up anyway and go sliding around the icy streets. I had on my new socks, and a warm shirt, a scarf sent by my grandmother, who knitted it herself. I was happy. I would slow down when I came to Valerie's house; she would be there at the window with her cup of tea. She would wave to me, and pull on her coat, and come out to talk briefly.
The smoke from her breath always excited me. I knew it smelled like lilacs and that her whole body was a creation of spring and flowering fields, gardens just waking up to the sunshine.
The turkey was roasted all day long and was put up on the drain board to cool before we were summoned to the table. My mother's stuffing was a magical confection of gizzards, kidneys, mushrooms, breading flavored with garlic and basil, and black olives. My tongue would savor it all and I would think of her mother growing up in sunny Sicily and working in the kitchen with all the other women of the household. They would be making pigs' ears, and rolling out pie dough in clouds of flour. They would be stirring huge pots of tomato sauce and slicing onions, peeling fillets of anchovy from a jar dripping with olive oil, sorting through the herb bottles for sprigs of oregano and bay leaves.
She brought all that lore with her to America and taught her daughters how to cook these ancestral dishes. I was glad. Christmas was my mother's time to show off her skills, and to lavish her table with so much food, no one could possibly do justice to it. But we ate until we sighed contentedly and took naps in the easy chairs. Maybe all this labor in the kitchen was the real gift of Christmas. The presents were store-bought and had a kind of impersonal sameness about them. But the food was blessed with the preserved sunlight of a faraway island. I remember that best of all.
My brothers would almost always forget to give me a gift. But one Christmas morning I was handed a small box wrapped in a paper towel and tied with twine. I opened it and removed a handsome penknife. I knew it came from the hardware store in town. It was not cheap. It had a very sharp main blade and I slit a page of newspaper to prove it. I was stunned. My own gift of four all-day suckers and a bazooka from the toy store seemed a paltry tidbit next to this.
I vowed to save more for next Christmas. I kept squeezing the knife in my pocket and thinking how many ways I might use it in my adventures in the woods.
"Christmas was my mother's time to show off her skills…"
My other brother, the middle one, was a bit on the tight side, but he managed to come up with a comic book and a whistle, which warbled when you blew it. A wooden ball rattled inside when you gave a toot. It was kind of him to think of me, and I told him so. But he was shy and didn't like to be hugged. So I smiled and shook his hand instead. My gift to him was a pack of baseball cards, but he wasn't much of a sports fan and merely smiled at me.
Almost at once my father was gathering up the torn paper and smoothing it out, stacking it carefully next to the fireplace. It would start the next fire, some cold January evening. By noon, the living room was returned to its slightly drab normal look, with the tree leaning a bit by the window. The cat was sprawled under the tinsel strands, gazing up at the glittering balls hanging above his head. He had been given some turkey skin and dressing for his Christmas dinner. We were tired and happy, and I was even pleasant to the two Mormon boys who showed up with their bible to evangelize us in the afternoon. I bit my lip and listened politely to their well-rehearsed gab and bid them a merry Christmas. 
When I opened the door to let them out, I found a card addressed to me on the mat. It was from Valerie, and bid me season's greetings. Her school picture was enclosed, and on the back it said, "Don't be such a stranger." I was elated. I felt a bolt of electricity race up to my heart. I felt the first awakening of some mysterious feeling I had not known before. I was at some threshold, a doorway which would lead me to a place only imagination could picture. I would flirt with her, I would hold her hand; I was ready to explore feelings that had been buried deep inside me until now.
Christmas faded away into New Year's, and school began again. My old rival was always waiting for Valerie at the entrance to school. He was eager to talk to her, to carry her books; he had on his new fleece-lined jacket and wore very smart gloves. His dad was an accountant and gave him lots of expensive gifts each Christmas.
But he was plain and awkward, and she would look at me as if to say, Where are you? I was moving through the murky start of a new life and would one day ask if I could kiss her. Who knows what she might say? But Christmas had closed my childhood behind me, and I was pressing my foot down into the snow where no one had walked before.