It hadn't been the best year, but I can honestly say I've had worse. However, 2020 wins for Grossest Reoccurring Question in the Fishburne House: "Why are there still slugs in my kitchen?!"
The Little House, by Virginia Lee Burton, was one of my favorites as a kid. I was a huge believer in the lives of inanimate objects. Jim Henson's The Christmas Toy– totally plausible. Raymond Briggs's The Snowman– required annual viewing. Disney's Beauty and the Beast–fool, those household items were capable of song before the enchantment.
I'm a grown up now. Sure, I still name my car, talk to my books, and feel guilt over using one mug far more often than the others, but who doesn't?
I loved The Little House for her expressive eyes, her loyalty, and her triumph over age and slowed metabolism.  It's possible I've projected my more recent emotions.
The callous disregard of her feelings by the humans ticked Child-Me off. How dare they "Hurry by without a glance"? She is the hero of the story! The Little House has feelings! Dumb humans.
Things I've said within hearing of my house:
"Look at this door. What a piece of garbage."
"Why bother filling that hole? This place isn't worth the trouble."
"Yeah it's not as old as it looks. It should probably be condemned."
_____________
When we drove down the narrow farm road and first saw our house peeking over the hedges, I couldn't believe how fortunate we were.
I walked into the kitchen and actually said to myself: I don't care what the rest of the house looks like. Fabulous kitchens in old homes have been deceiving women longer than Spanx have been disappointing prospective lovers. Counter space, an AGA, large sink, room for a table, and a cozy nook perfect for a desk and bookshelf seduced me from the start.
From the kitchen, I walked beneath stained-glass transept windows to an elegant and elaborate tiled hall. I will sleep in this hall. I don't care what the rest of the house looks like. The quirks and delightful oddities of the house only further enamored me of it.
The peeling wall paper, the cracking entry wall, the guaranteed heating expense, the sloping and buckling floorboards, the weird shower room, the defiant glares of spiders in every single corner, blah blah blah did you see that kitchen?
The hottest English summer on record revealed windows painted shut, a nest of hornets in the laundry room's gaping hole high up in the ceiling, and an undisclosed sauna comprising the bedroom we'd chosen for our youngest child.
The winter bestowed hundreds and hundreds of dollars in heating bills for an environment that did not qualify as even warm, a chandelier that leaked rain water, a cascade of water turned mold in the entryway, and external doors that did even less to keep out the elements than the windows–which we did not think possible.
Chimney issues. Septic tank issues. Radiator issues. Internet issues. Insect and arachnid issues.
I did not sleep in the hall.
I began to see the beautiful pattern as a kaleidoscope of agonies: physical, financial, emotional, and spiritual.
And then came Lockdown. There was nowhere to go. This house and I were not on good terms, and now it was not just my entire world, but everyone else's in the family. I sequestered each child in a separate room to become their office. Sam worked in his area. I ran interference between everyone and then managed to find a few moments at the kitchen table to work on my own projects. I kicked everyone outside into the grass and trees to play. I cooked many many meals in the kitchen. We watched movies in the living room kept clear of school chaos. Everyone went to bed in their own room. We had plenty of room. There was a vastness to our confinement.
And every once in a while, someone noticed a beautiful shimmering design on the family room carpet. It sparkled and glimmered like silver threads pulled from a forgotten tapestry. But after appreciating the art of it we realized it was a slug track. In my family room. And then on the kitchen door mat.
After 13 years, this is the first house in which I'll have no pregnancy or infant memories. There won't be any new Fishburnes here. When I look back on each house, there are expandable jeans, cribs, nursing, nap times, diapers, first words, and grapes cut up into nothing. This house will have tearful video chats, too much whiskey, bitter home repairs, a touch more fighting, cancelled birthday parties, and almost stepping on slugs on the way to make coffee in the dark autumn mornings. Normally, the isolation would not bother me. This has been different.
_____________
As lovely as the simplicity of schedules has become, in this, England's second lock down, the highlighted deficiencies in my personality are less so. And good grief, I'm predictable. Without the outside world to keep my selfishness in check, I'm Meteora. This is my kingdom. Do what I say. If you don't, you will be destroyed. When it's broken, it should be thrown out. When it's ugly, it should be ignored.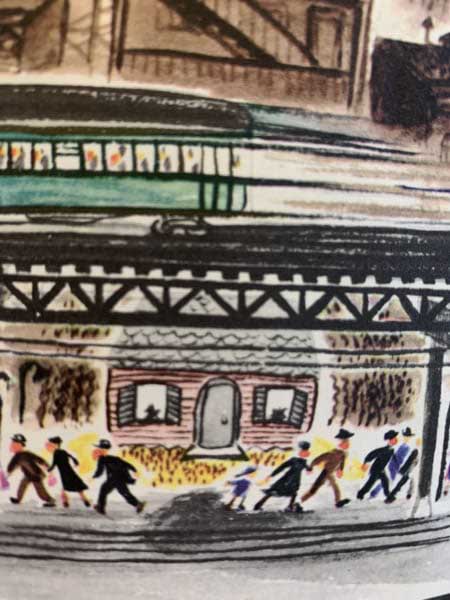 I've written and painted more in 2020 than any other. I've made soul-deep friendships. I've never felt so much myself. Which sort of pisses me off because it's been a pretty crap year. But like I said, there have been other crap years–which have eventually always resulted in something wonderful. Usually babies. Why does it take a wilderness to produce a miracle? Why do we have to be tested to prove our worth? Why are there still slugs in my house?
A wilderness area is a region where the land is in a natural state; where impacts from human activities are minimal. Staying in this house, with my family, away from my larger family, prevented from both distraction and accountability, has left a shimmering trail. Beauty has been left in the wake of the disgusting. Beautiful not because of what I've done, but lovely because, though not a baby, something was born in this house. Something new is happening, and it's going to be good.
(Originally appeared in Christina's Blog, Smile When You Say That.  To check out some of her other blog entries, click here.)